ARNOWA's Street Light Solutions
ARNOWA

Turning Streets Smarter through its Smart Street Solutions.
When we talk of smart light, the first thing that comes to our mind is energy efficiency. But nowadays we no longer bother about energy efficiency because new generation LED lights and bulb are available in the market, which is already energy efficient. For a light being smart, the more focus is on the automation in adjusting its luminescence or brightness based on the occupancy and daylight, which further adds on energy efficiency.
The smart street lighting segment in India is still at a nascent stage. The street lighting is moving faster than the consumer smart lighting segment. ARNOWA has planned to invest around AU$5 billion to invest into smart street lighting solution space.[rml_read_more]
The smart street lighting market is projected to be about $25 billion market in India in the next five years. There are essentially two components of the smart street lighting solution one is the light itself and the other is the connectivity part.
The smart street lighting product is going to be much faster in the commercial and B2B space. So street lighting is already happening. ARNOWA is in talks with various government regarding smart cities, smart street lighting projects.
At present ARNOWA has planned out to install pilots in collaboration with various universities and Ministry of Housing and Urban Affairs, GoI who are handling the SMART City project in India.
ARNOWA has made some presentation to various Government agencies to create awareness and help them understand the benefit of smart street lighting or smart commercial lighting by throwing light on how this benefit is going to be exceptionally high in the long run.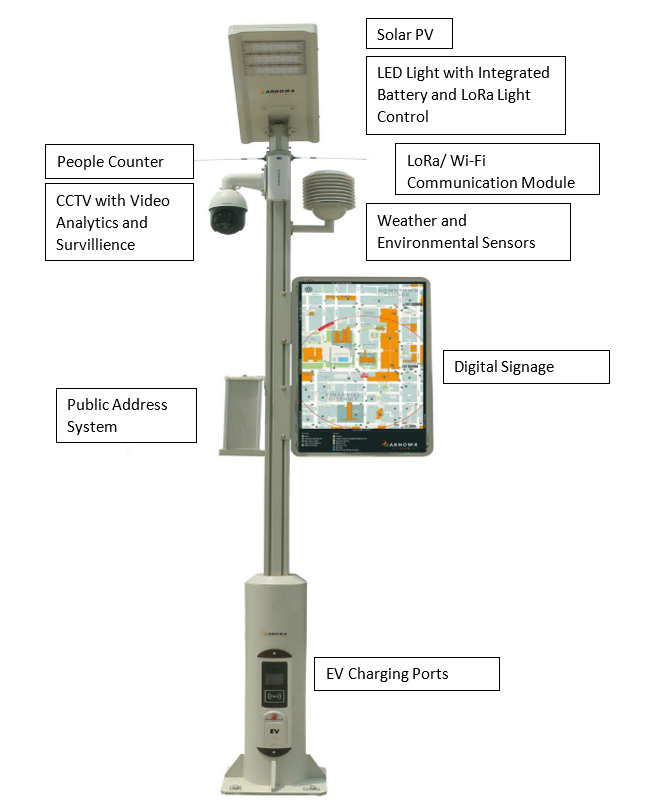 How is ARNOWA's street lighting different from other company's products?
ARNOWA doesn't provide only sensors or components; it proves a whole independent ecosystem of Smart lighting. Smart light doesn't mean just connecting the LED bulb on the poles with lots of sensors. ARNOWA's vision of "smart street light" is a fully independent system, which runs on its own, generating all of its energy required using solar energy.
The various benefits of ARNOWA's street Lighting solution are:
Saves up to 70% energy
Extended lamp life up to 10 years and beyond
Self-diagnostics: energy use, lamp life & operational characteristics
Reports energy use & system functions
Image (camera) & environmental sensors
Digital signage board for visual communication
Increased "dwell time" at surrounding venues
Decreased maintenance
Emergency traffic conditions
Emergency mass notification is effectively distributed without echoes & reflection via pre-programmed messages and dial-up
Unique flexibility in dimming and on-demand adjustability
Self diagnostics – reports energy use & system functions
Colour changing capabilities